Archive for the 'Misc' Category
Disclaimer: I'm largely going to discuss logistics of the eBook from an industry perspective and not a discussion of their validity as a replacement for the dead tree book on an emotional level. Too many of the complaints I've seen about eBook adoption relate to "oh I'd miss the smell of paper" and such. I enjoy listening to music on vinyl records still, but I recognize that it isn't the most practical format to take with me to work, or on vacation. Likewise I'll never get rid of every "normal" book in my house, but there are some scenarios in which I can see the eBook being a practical option. As the title of the old Wordtrip podcast pointed out: "It's the Story Stupid".
Disclaimer 2: I wrote most of this around the time the Kindle 2 came out which means some of it may be dated.
Before I start to talk (yet again) about the Kindle and the eBook industry, I want to do what everybody else has done, talk about iTunes and the music industry. This is obviously a flawed metaphor for comparison with the book industry, but it may be the best we can do. Back in 1999 Napster had owned the market, such as it was, on digital music delivery. If you wanted to hear a song all you needed to do was search Napster and it was there. Napster was a thing of consumer beauty. What it wasn't, was a means of supporting the artists. Napster was free, and the service was free, and nobody was really getting paid for any of it (including, and especially, the artists). Some artists realized that this helped their market overall and contributed to their fan base, some artists realized it was stealing, and Napster realized that it wouldn't be able to do things that way for much longer. The story goes that Napster went to the music industry execs and said essentially "we'll pay you to legitimize this, what should we charge the users and what cut do we give you?" and the music industry decided it was too much of a threat to their existing business model and rather than help the consumer get what they wanted (music, ubiquitous can-find-whatever-I-want-easily-at-a-reasonable-price music) they shut down Napster.
While other peer-to-peer technologies arose, none gained the level of ubiquity that Napster had in its heyday, and nobody made "pay for digital music" mainstream until Apple introduced the iTunes music store to go with its already-successful iPod. There were a few subscription based music services which hadn't taken off (commonly believed to have been largely due to the controls put on the music making it less useful for the consumer), and a few other pay for tracks & albums stores around, eMusic did it wonderfully for independent artists, but it was iTunes that really made it so all the kids could buy their pop songs on-line, feed them into their iPods, and allow the artists, producers, and Apple, to make money. Apple did this by doing something fundamentally less-good for the consumer, applying DRM to the iTunes song files, that convinced the music industry it was "OK" and people weren't just going to be stealing the content. This gave Apple leverage to maintain the pricing structure they wanted and sell billions of songs. Eventually the music industry realized they had ceded more control than they wanted to Apple, and that the consumer would still (even prefer to) pay for cheap and easy-to-get songs without the DRM and everybody could still make money. The music industry decided to allow other digital music stores to sell their products without DRM before they would allow Apple to drop the DRM from their own, supposedly in hopes of wresting some of that control back from Apple. Probably the biggest of these other stores is the Amazon mp3 store where you can buy music for comparable prices to iTunes, in a high quality format, and have it auto-populate into iTunes for syncing with an iPod.
Apple still has the largest market in the digital music space, and even though they've dropped DRM they're still using a proprietary format that primarily works in only their players (though now without DRM it is apparently trivial to convert those files into something that will play on any mp3 player). Many people think this has given them a monopoly in their market, because they've essentially locked the consumer into playing their music on Apple products. However I think one of the main reasons the iPod rose to success was because it not only allowed people to easily obtain music from the iTunes store, but because it always had the capability to play standard MP3s which people already had in their collection (some had Napster provided libraries, but many had also converted their CD collections into a digital format). It remains to be seen whether or not they'll be able to maintain their hardware and/or software dominance now that the users can buy music in multiple places and for many other devices. This being locked in by the content they sold was much of the complaint pointed in their direction because it was less than ideal for the consumer (it has been argued well and many times by Cory Doctorow, see resource section for links).
All the blathering above is an attempt to lay the groundwork for discussion on the Kindle and ebooks. Now I want to speak to some of the pros and cons of the Kindle, and how it can succeed, how it might fail, and what it (and ebooks in general) might mean for the future of publishing. I'll largely be ignoring the textbook and "assigned reading" market for the time being, not because they're insignificant, but because they're such a different beast (though I may touch on them later in the discussion).
Like music, ebooks have been around in multiple formats for many years. Like music, the publishing industry is concerned about the ability of the consumer to digitally copy a file they haven't paid for instead of purchasing their own. Like music, the publishing industry is also worried about losing control as the gatekeepers of content to the general public. Unlike music however, no ubiquitous free means of sharing ebooks has cropped up (no ebook Napster). As with the iPod before it, the Kindle has come into a space where there exists other options for the consumer, some arguably better for the reading experience, or better for the end user options. There are other places selling ebooks besides Amazon.com, but, as with iTunes before it, the Kindle is the first to do a reasonably good job of making it easy for the consumer to purchase digital content in a relatively seamless way. Also like the iPod before it the hardware provider has a product which is not on the low end of the price spectrum, and the content distribution method has some pricing controls put in place that allow the distributor (Apple with iTunes, Amazon with Kindle) to set pricing structure to suit their needs.
While few people will argue that books are an industry which makes a significant amount of money, the purchasing habits of the book buying audience are vastly different than that of the music industry. The music industry is largely, if not primarily, driven by a young pre-teen through college age consumer who spends a not insignificant percentage of their disposable income on music. The book buying consumer base is broader and older. (I would insert real statistics here if I had them) My estimation is that in the US there are 10-20 million consumers of 10-20 new CDs each year, but for books the number of consumers who buy 10-20 new books a year of their own choosing is probably closer to the 1-2 million. Aside from the airline customer, generally a book purchase isn't an impulse driven one. Many of us buy CDs, discover we only like half the tracks, and are OK with that. Rarely would we be happy enough to go back to an author if we only liked half of a book. So, in addition to the relatively obvious lack of a 99 cent book "section" corollary to a song, you have the vastly different purchasing trends that make digital distribution of books a different, and less easily adopted, market.
The cost issue is another one which complicates the ebook market. With music there is the obvious option of selling individual songs in addition to complete albums. With books it hasn't been a viable option to sell individual chapters or serialized installments thus far. The closest corollary to a "song" is a short story, but the short story market has dried up a good bit (yes, you can still find/buy/sell short stories, but the market is one vastly different than that in which writers thirty years ago participated). Seemingly more people looking for that sort of short term entertainment have turned to television, and there is a whole discussion to be had about that at some point. Serialization would be a possible option (Stephen King tried this a few years back), but unlike a song, most serials aren't usable without the rest of the "album".
I know some have argued that ebooks are so much cheaper than dead tree books, but for the most part the discounted price on ebooks comes from the unknown independent artist, small press, or subsidized cost (as with the Kindle). As iTunes indicated, it wasn't the indies who drove the market to a digital distribution (otherwise eMusic would've won that market), it was when you could get the very popular mass market artists available for download that digital distribution took off. Likewise, with literature it's the Steven King, JK Rowling, Dan Brown, and Michael Crichton's of the market who will drive enough people to ebooks and ebook readers.
One problem with a musical analogy is that most musical artists don't make the bulk of their money from the production and sale of records, but from their live performances. As with Radio, a musician can almost give away their "product" and it not hurt their bottom line. Writer's don't have that one off performance based income. While you can take a segment of the retail cost out of the equation by not having to produce a physical book, the writer has a much more vested interest in getting paid for the consumption of his work in book form than a musician does in recorded form.
There are alternatives to the Kindle that each have their own strengths and weaknesses. The Cool-er eBook reader being one that got a bit of press recently and seems to answer some of the flaws in the Kindle; cheaper hardware, expandable, etc. Though the Cool-er and Sony both lack the killer function the Kindle nailed in revision one: "free" wireless access to download books almost anywhere and anytime. One can argue that the access isn't free because of the price of the hardware, but it is functionally free to the user who purchases a Kindle.
The Amazon Kindle is sucking the air out of the room for other ebook readers on the market because, like iTunes and the iPod it has the integrated distribution system which makes it convenient for the consumer and comes from the largest on-line book seller. Also, like iTunes, it allows people to use at least some of their existing ebook formats. Unfortunately, also like iTunes/iPod, it uses a custom DRM. The competing DRM options may cause adoption issues from a user standpoint. If I purchase a book from Sony, or Amazon, I can't read that on another reader. Amazon seems to be making an effort to mitigate this by developing Kindle apps for other devices (though currently it is only available for the iPhone). The main thing Amazon needs to do for their own sake is drive the market for long enough so people have enough Kindle format books in their "library" so that switching to another format would be costly or troublesome. This may not be best for the user, but if Amazon begins to license ability to read Kindle format books on competing hardware it may be enough of an incentive to push further adoption.
One of the keys to the adoption of the iPod/iTunes model was that people were able to use their existing library of songs, and the Kindle DX with its PDF support has made some steps in the right direction for those who already had e-books in that format. Though most people don't have all that many ebooks in their collection, so one way to increase adoption rapidly would be to offer an "upgrade to ebook" where any book you've purchased from Amazon in dead tree format in the past could be purchased for your Kindle for $1-3. The publisher has already been paid for it, and the cost would mitigate the loss they may experience by you selling your original copy into the used book realm.
Kindle may be sucking the air out of the room right now, but if publishers want to keep Amazon from having the stranglehold on them that Apple has (or had) on the music industry it would behoove them to work out a format of their own with some sort of "upgrade to ebook" path that could be sold with the books and/or through retailers. Barnes & Noble would seem a good partner from a publishing standpoint where anybody could bring in their copy of a book, have the barcode scanned and covered with an "ebook right sold" sticker of some form and get that book automagically added to their master on-line ebook library accessible from any computer or wireless ebook reader. This could even be set up as a kiosk that could be installed in your local Starbucks where they could also have readers available to borrow while you're having your cup of joe. You'd just need to sign-on to your account and have instant access to your library anywhere.
I don't think ebooks will entirely replace dead tree books for quite a long time, if ever, but there are many places and uses where an ebook reader could be a much more practical than dead tree books. The ebook reader will almost never have the romance of dead tree books, but for textbooks books that would need updating (a part of your tuition could go to your annual textbook subscription), or technical books (with a baseline book cost and an upgrade fee each time the software/language/operating system was updated), or even summer "beach book" titles at a handy discount to reflect lowered production costs.
There are a few other ideas (probably much better than mine) in some of the articles listed in the resource section at the bottom of this post. I'd love to hear your thoughts on eBooks and how you think the market will shape up in the future.
—————————————————————-
Notes: Articles on the Kindle, eBooks, and publishing which wereused/read in preparation for writing the above piece:
http://booksquare.com/new-think-not-so-much/
http://en.wikipedia.org/wiki/Amazon_Kindle#Summary_of_content_availability
http://en.wikipedia.org/wiki/Amazon_Kindlehttp://www.booksummit.com/
http://www.aaronrosspowell.com/blog/my-experience-selling-a-draft-novel-on-the-amazon-kindle
http://blogs.psychologytoday.com/blog/in-practice/200806/kindling-publishers-anger-and-authors-gratitude
http://www.thebigmoney.com/articles/saga/2009/03/04/kindle-revolution?page=full
http://sethgodin.typepad.com/seths_blog/2008/06/random-thoughts.html
http://sethgodin.typepad.com/seths_blog/2009/02/reinventing-the-kindle-part-ii.html
http://en.wikipedia.org/wiki/Comparison_of_e-book_formats
http://www.guardian.co.uk/technology/2007/dec/11/amazon
http://condalmo.wordpress.com/2009/02/10/amazons-jeff-bezos-is-a-stale-stale-sandwich/
http://wordhoarder.wordpress.com/2009/02/25/what-about-eebooks/
http://blog.vromans.com/i-read-an-e-book-and-i-liked-it/
http://lemniscate.us/2008/02/10/30-benefits-of-ebooks/
http://www.tuaw.com/2009/03/11/further-thoughts-on-the-kindle-iphone-experience/
http://www.penny-arcade.com/comic/2009/3/9/
http://www.macintouch.com/reviews/kindle/
http://www.youtube.com/watch?v=MaY91FqM40E
http://ihnatko.com/index.php/2007/12/03/kindle-its-more-than-just-waffles/
http://ihnatko.com/index.php/2009/02/26/kindle-2-review-is-up-and-bonus-screenshots/
http://www.yourmaclifeshow.com/content/dueling-kindle-reviews
http://www.teleread.org/2009/03/28/friendly-invitation-for-curious-jeff-bezos-want-to-blog-here-mix-with-long-time-e-book-owners-and-get-feedback-on-drm-and-other-issues/

The following was my long-winded response to a member on Wordtrip regarding his dismissal of the Kindle because a retailer pushing their proprietary format "never works" in his opinion, and that he thought the device that will really be the tipping point for ebooks will be an "iPod" that plays anything.
—————————————————————–
The iPod was A big gun in the portable music market, but it was when they introduced the iTunes music store selling their proprietary audio format that locked people into using the iPod to keep using their newly purchased collection, that it became THE big gun in the portable music market (even though it was way more expensive than the competition).
The iPod always played mp3s, just like the Kindle will display PDF and HTML and DOC formats, but it was the easy digital delivery and purchasing of proprietary AAC, which gave the producers happy feelings about their stuff not being stolen, that made the legal on-line music market (and they've sold a few billion songs that way before going DRM free). Now you've got a lot of DRM free versions of music (amazon's mp3 store for example) because the producers didn't like to be locked into Apple, and what I suspect will happen is something similar when the Kindle has shown enough publishers that people will pay for digital content the producers will then start unlocking it for other eBook readers.
The Phone idea isn't unlikely per se, and the Kindle app for iPhone is a step in that direction (they're apparently going to be making for other devices as well), though I think the BIG dig against a blackberry/phone concept is that having read a few things on the iPhone and Blackbery, it's just not as comfortable to try and read any quantity of content on a small screen. For me I think the more likely scenario would be something in the Netbook realm which cost about the same (or less) than an iPhone/smartphone, are about the size of a large hardback, and have a large subset of the computer functions. Acer (or Asus) has demoed that dual-touch-screen netbook that could be used as normal netbook, or held open like a book and read. They're already working built-in wi-fi and cell in the netbooks, so if they tweak that technology a bit to allow for longer battery life it could be a Kindle killer (even though with a browser and mp3 player built in already the Kindle is going to make other people work for it).
The thing to notice on Amazon though is that, unlike Apple who keeps a stranglehold on "their market", Amazon has shown incredible willingness to market their competitors. If you go to Amazon and search for a product, they show the used and new people selling items cheaper than they do AND if it's a non-book product they usually default a sale to the cheapest people selling it even if they sell it as well. I'm not sure how they'd monetize that in a digital content market, but I'm not sure they couldn't come up with a way. Bezos tries to be very customer-centric in the company's decisions.
Secondarily an eBook reader will almost by design be a one-off market catering to a higher-end customer UNLESS the book industry figures out a way to drop prices on digital books to be consistently at the paperback (sub $Cool price range. Most people I know who are book lovers don't go buy every hardback they own at retail price. Most are used book store people who pick up a ton of their collection at sub $3 per book pricing. The main market for the eBook is going to be the business traveler who would otherwise be buying a book in the airport.

Sheesh, I'm not thankful for THAT
If we add in the Citi bailout, the total cost now exceeds $4.6165 trillion dollars.

…

• Marshall Plan: Cost: $12.7 billion, Inflation Adjusted Cost: $115.3 billion
• Louisiana Purchase: Cost: $15 million, Inflation Adjusted Cost: $217 billion
• Race to the Moon: Cost: $36.4 billion, Inflation Adjusted Cost: $237 billion
• S&L Crisis: Cost: $153 billion, Inflation Adjusted Cost: $256 billion
• Korean War: Cost: $54 billion, Inflation Adjusted Cost: $454 billion
• The New Deal: Cost: $32 billion (Est), Inflation Adjusted Cost: $500 billion (Est)
• Invasion of Iraq: Cost: $551b, Inflation Adjusted Cost: $597 billion
• Vietnam War: Cost: $111 billion, Inflation Adjusted Cost: $698 billion
• NASA: Cost: $416.7 billion, Inflation Adjusted Cost: $851.2 billion

TOTAL: $3.92 trillion

[From Bailout costs more than Marshall Plan, Louisiana Purchase, moonshot, S&L bailout, Korean War, New Deal, Iraq war, Vietnam war, and NASA's lifetime budget -- *combined*! - Boing Boing]

First off is this great set of election maps where they show red/blue/purple by county and relative population and all sorts of other interesting ways to visualize how people vote in this country.
Most of us are, by now, familiar with the maps the TV channels and web sites use to show the results of the presidential election:

[From Election maps]
2nd is the nice gesture idea of ZeFrank's. While it's a bit cheesy at times, it's a nice way of reminding us of the human element on both sides of the isle.

Jake is involved in the FIRST Lego League competitions… Dean Kamen is one of the FIRST founders… he's a smart guy.
You know, people always talk about rights in this country—I wish we had a bill of responsibilities. So I think the president has to stop thinking of the crisis du jour and say, "In this race between education and catastrophe, we need education to win."

[From Dean Kamen Q&A: American culture needs a geek overhaul - Boing Boing]

Chad, rather succinctly, sums up a lot of what has caused the current bailout scenario.
All this crap is the result of tons of bad, awful investments, offering terrible loans to abysmal-risk borrowers. Much of the reason for that is Clinton-era policy that encouraged loaning money so people who can't afford to buy homes and expand marginal businesses would then buy homes and expand their marginal businesses, specifically to help urban development. While the Bush administration has done nothing to correct the matter, as far as I'm aware, House Speaker Nancy Pelosi's statements to the effect that George W. Bush should apologize to the American people for "causing" the current financial crisis are somewhat off the mark.

. . . to say nothing of the forty years or so of piss-poor economic policy under a long line of crappy Presidents before Clinton came on the scene, all of which set the stage for Clinton's gaffe.

Now, Ben Bernanke (chairman of the Federal Reserve board) and Henry Paulson (Treasury Secretary and IMF board member) are trying to harangue Congress into approving a $700 billion dollar bailout for more failing organizations considered "too big to fail" by supposed fiscal wizards like them.

[From Chad Perrin: SOB » You've heard about the $700B bailout. Right?]
I realize there is some segment of this plan which is designed to use public funds to loan to private enterprises (or buy our private assets) in an effort to stabilize the economy so we don't all end up poorer than the bailout will make us. However I think the government trying to be the visible hand to "fix" things after its own efforts to be the vaguely translucent hand managed to screw up the invisible hand's market regulations is a bit of throwing good money after bad (ok, so that invisible hand metaphor was stretched a bit). Realistically the last 15 years of government have done the majority of the damage to the economy, and that has come under democratic AND republican presidents and democratic AND republican led congresses. To use a sports(ish) metaphor, it seems we keep asking the Yankees and the Red Sox how to run a team on the cheap, and somehow are surprised that neither steer us well.
It looks like they've passed some version of it now, though I've not looked at the final revision enough to know how much worse (can't assume it got better) the final one is than the initial version was.

This evening I watched Merlin Mann's speech on blogging and then tracked down the thread of his recent posts on his various sites. As usual, Merlin articulates much more clearly than I, the thoughts I've either been having, or wish I had been having. To that end, I'll leave you with the two things I've taken away from this, and then I'm going to ponder the nature of what I'm trying to do with my sites (this one, Wordtrip, CountThatDayLost, etc).
First the general:
If I'm not laughing at your joke, complimenting your insight, or leading the Standing O for something you spent 10 seconds pecking up on your phone, it may not be because I don't get it; it may be because I think we're both capable of better and just need to find the courage to say so. In as many characters as it takes.

[From kung fu grippe - Better]
Second the specific to blogging: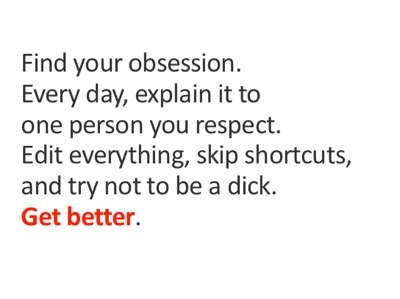 PS: and NEXT time I'll follow the advice of letting it stew for a few days before I post it… honestly.

Vigorous physical activity could blunt the effects of a common gene linked to obesity, claim US researchers.

Carrying two copies of the FTO gene significantly increases the chances of becoming obese.

However, a study carried out among the US Amish community found an active lifestyle appeared to remove this risk.

[From BBC NEWS | Health | Exercise 'blunts fat gene effect']
Wait just a second here. You're telling me if I don't sit on my fat butt and eat Little Debbies all day I've got a better chance at not being obese? Wow, you just blew my mind!

FYI: My friend Mur's super-hero novel is having its big push on Amazon.com today (August 25th). If you're into super-heros and snarky humor check it out and help her run up the Amazon rankings.

"Playing For Keeps" (Mur Lafferty)
You can find more info at the book's site: www.playingforkeepsnovel.com and on her other sites www.murverse.com and www.ishouldbewriting.com

Found probably on boing boing… but not sure. We won't subject anybody to a vocal rendition of it.
I am the very model of a modern SF novelist,
I've manuscripts space opera, anime, and fantasist,
I know the kings of fandom and the best flamewars historical
From Andrew Burt to LiveJournal, in order categorical;
I'm very well acquainted too, with matters editorial,
I keep my cover letters brief and never too suctorial,
About rejection etiquette I'm teeming with propriety,
With many cheerful facts about your online notoriety,
I'm very good at worldbuilding and proper use of ansibles;
I know the hyphenated names of beings unpronounceable:
In short, in matters space opera, anime, and fantasist,
I am the very model of a modern SF novelist.