Archive for June, 2008
I just "discovered" this little financial hack way to get gas for basically 10% or so off, here in Georgia anyway. The regional grocery store Kroger is running a promotional through July which gives you a 10% bonus when you buy a large gift card (minimum is $300). So what I did was buy a $330 gift card for $300. Then, using their little rewards card thing I bought $100+ worth of groceries which gets me a fill-up with 10 cents off per gallon. And since I can use the gift card at the gas pump…
$3.95 gas – $0.10 discount for buying groceries from them = $3.85 – 10% (from the bonus money added to the gift card = $3.47 a gallon for gas (wait, I may have mis-calculated that… it could be $3.50 a gallon or so, I'd have to do more complex than Saturday afternoon warrants

… either way big savings).
I'm sure I'll be stocking up on gift cards from Kroger before that promotion ends, it applies to $300 ($330), $600 ($660), and $1200 ($1320) gift cards.

BBC has a few interesting editorial pieces like this, worth reading and thinking about (and I'm going on the assumption that you all will take whatever you read with a grain of salt and reason).
The world's poorest of the poor live in the toughest areas of the planet – the drylands.
These areas all have key factors in common: water is scarce, and rainfall is unpredictable – or it rains only during a very short period every year.
Drylands cover more than 40% of the Earth's surface and are home to more than two billion people.
These areas are also home to a disproportionate number of people without secure access to food.

[From BBC NEWS | Science/Nature | A way of life is feeling the heat]
This is something to think about when putting forth nuclear power as a valid solution to energy problems, we'll need technical people involved in the process which aren't there now.
A new generation of nuclear power stations has been given the go-ahead by the government – but where are the scientists and engineers to build and run them?
Inside Sellafield nuclear power plant, past the police checks and the barbed wire fences, 26-year-old Gemma Johnson is hard at work in one of the plant's high-security laboratories.
Surrounded by test tubes and bubbling liquids, she is carrying out research aimed at improving the way radioactive waste is treated.
Gemma is one of the much-needed qualified scientists joining the nuclear industry after years of declining recruit numbers.
I'm reading a book called Kluge which addresses this in depth… basically the brain doesn't work as well as we all like to think it does.
If someone was killed in front of you would you remember what happened? Many experts are challenging the view that eyewitnesses recounting what they saw is the best way of tapping their memory. Some think brain scans could be the way forward.
Think of a journey you made yesterday. I'm sure you remember it.
So can you remember whom you sat next to? Can you remember what the weather was like? Who was in front of you in the petrol queue? Was it a man or a woman?

Naturally, most of the time we don't remember these details. But what if someone got knifed in the petrol station? Then we become witnesses to a crime. And our ability to recall these minor details may have a significant role in authenticating our memory of the offence.
Cloud Computing… never sure how this dream will work out, but I know at a former employer we used largely centralized computing power with "thin clients" used by most of the people working "on the floor."
The cloud is the latest buzzword doing the rounds in the tech world.
In essence it is a simple idea. It refers to data and processing power living online rather than in a beige box under a desk.

As we move towards a world where we are all storing more and more media in digital form – documents, photos, music or videos – moving it into the cloud offers unparalleled flexibility.

[From BBC NEWS | Programmes | Click | Harnessing the power of 'clouds']

I'm a big fan of Pzizz's napping software (don't ask, just trust me it's good stuff), and liked this little graphic on napping that Merlin at 43 Folders linked to.

I believe I've shared the subject of this post before as a quote (from Merlin I think), and now there's a news story (thanks Mudge) saying that studies show that the smell of Coffee is a great stress-buster… and that it's MAGIC.
It's too early to recommend that people feeling stress sniff coffee to ease their way, Martin said. But, he added, "people who don't even drink coffee are fascinated by the odor of it. Ever since my little boy was two years old, he has loved the odor of coffee. I have always thought that coffee has some mystic quality, and there is some deep historical basis for it."

[From Coffee Beans May Be Newest Stress-Buster on Yahoo! Health]

Interesting little bit here using some online "rental" sort of services to run a "channel" with better Sci-Fi than you see on the SciFi channel.
I've been very disappointed by the so-called SciFi Channel since its inception. Like many others, I believed that I'd be able to tune in and regularly catch repeats of classic shows, great classic movies, some SF oriented 'made-for' content (coverage of conventions, literature, authors, etc) and maybe some original movies or series, carefully chosen to insure the preservation of the genre and treat it in a positive, perhaps even marginally experimental, way.

You can probably guess that's not what I got.

I can't imagine the level of lawsuit this would bring in the US, but I'm sure it would be impressive.
Dr Merchant said that the 30-year-old mother of the child – who was seven months pregnant – suffered life threatening convulsions and high blood pressure over the weekend, which required powerful medicines.
He said that that the doctors believed that the baby – who was limp at birth – had no heart beat and no pulse.
She was given a death certificate on Tuesday morning and two hours later her body was handed over to her parents.
But later, when the effect of medicines wore off, Dr Merchant said that the baby "showed attempts to breathe".
"Under such circumstances, it would appear that doctors had no reason to assume that the baby was dead," he said. "There is on the face of it a case of negligence to be answered."

[From BBC NEWS | South Asia | Indian baby 'back from the dead']

From Boing Boing, just watch the fun coffee nerdiness.
In today's episode, Mark Frauenfelder brings his own espresso machine to US Barista Champion, Kyle Glanville, to learn how to make the perfect espresso. Kyle also gives a hands-on demonstration of the "ultimate nerd's way to make coffee."

[From A Morning at Intelligentsia Coffee Part 2 - Boing Boing TV ]

This is a fascinating mental exercise. What would you need to know to survive (or thrive) in the year 1000. In a way it's almost an apocalyptic question as well… when the EMPs disable all our technology, what will you need to know to re-build it from the ground up? The comments section on this post is where the meat is, so don't just read the original post.
Time travel back to 1000 A.D.: Survival tips

Londenio, a loyal MR reader, asks:

I wanted to ask for survival tips in case I am unexpectedly transported to a random location in Europe (say for instance current France/Benelux/Germany) in the year 1000 AD (plus or minus 200 years). I assume that such transportation would leave me with what I am wearing, what I know, and nothing else. Any advice would help.

I hope you have an expensive gold wedding band but otherwise start off by keeping your mouth shut. Find someone who will take care of you for a few days or weeks and then look for employment in the local church.

[From Marginal Revolution: Time travel back to 1000 A.D.: Survival tips]

How cool are these? I want them for the library in our house… course I want a library in our house first, but still.
Erik Olofson has been building and upholstering furniture for more than 27 years. He began creating whimsical Big Cozy Books when his kids thought his design for a local library seating area was, well, boring. His daughter said, "Why don't you make the seats look like big books?" The light bulb went on, and he started creating.

[From Big Cozy Books | About Us]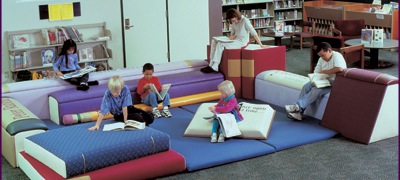 I love what this says about Smoltz; that even though there's a chance he's done, career over, he's still rehabbing with the team. He's not giving up; he's still struggling to stay with the guys and maybe make another run.
John Smoltz was back with his teammates Friday afternoon, but the cumbersome brace on his surgically repaired shoulder will probably keep him out of the dugout during games for a while.

The 41-year-old pitcher had season-ending shoulder surgery June 10. Smoltz is already doing his rehab work at Turner Field, and Cox is eager to have him on the bench and on road trips as soon as he's ready. But for now, "He's miserable," Cox said.

Smoltz is wearing a brace and padding to keep his arm immobilized and held out to the side. He told Cox and teammates he has been unable to sleep.