Archive for September, 2008
This evening I watched Merlin Mann's speech on blogging and then tracked down the thread of his recent posts on his various sites. As usual, Merlin articulates much more clearly than I, the thoughts I've either been having, or wish I had been having. To that end, I'll leave you with the two things I've taken away from this, and then I'm going to ponder the nature of what I'm trying to do with my sites (this one, Wordtrip, CountThatDayLost, etc).
First the general:
If I'm not laughing at your joke, complimenting your insight, or leading the Standing O for something you spent 10 seconds pecking up on your phone, it may not be because I don't get it; it may be because I think we're both capable of better and just need to find the courage to say so. In as many characters as it takes.

[From kung fu grippe - Better]
Second the specific to blogging: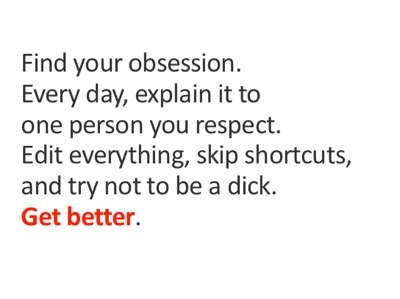 PS: and NEXT time I'll follow the advice of letting it stew for a few days before I post it… honestly.

Vigorous physical activity could blunt the effects of a common gene linked to obesity, claim US researchers.

Carrying two copies of the FTO gene significantly increases the chances of becoming obese.

However, a study carried out among the US Amish community found an active lifestyle appeared to remove this risk.

[From BBC NEWS | Health | Exercise 'blunts fat gene effect']
Wait just a second here. You're telling me if I don't sit on my fat butt and eat Little Debbies all day I've got a better chance at not being obese? Wow, you just blew my mind!